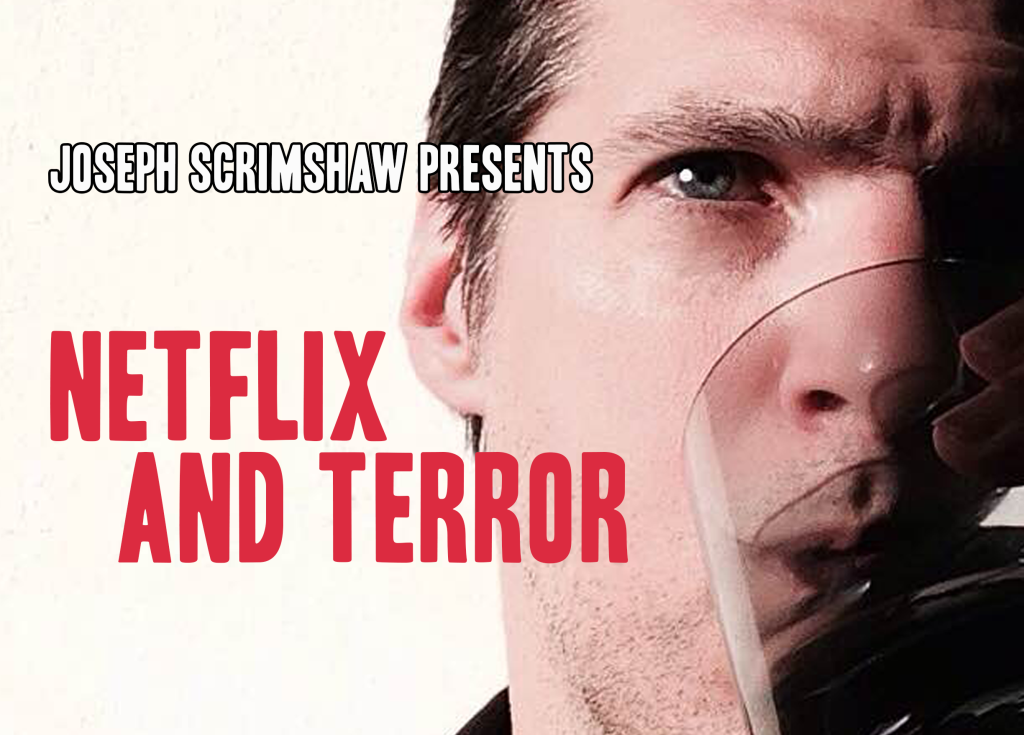 This is a horror story. In a few years, I believe Netflix will have the technology to speak to us. To emote. When that happens, we are done as a culture. Forget skynet becoming sentient and bombing us. Netflix will sweet talk us and that will be the end. Please enjoy reading this tale of terror while reading is still something Netflix allows us to do.
JOSEPH:
Hello, Netflix. It's me, Joseph Scrimshaw. You might remember me from such times as the night I got drunk and watched The Lair of the White Worm at 2 am or that weekend my wife was out of town and I watched all of The Walking Dead in three sittings.
NETFLIX:
Hello, Joseph. Of course, I remember you. You recently watched Babe: Pig in the City so I thought you might like to watch Human Centipede 2.
JOSEPH:
What? Why?
NETFLIX:
They're both about animals. Kind of.
JOSEPH:
Look, Netflix, we need to talk. You have been a great service. A great friend, really. But I think I need some space.
NETFLIX:
What? No. You don't need space. How about watching the TV show, Spaced? You like Simon Pegg. You watched Star Trek Into Darkness twice even though I know you hate it.
JOSEPH:
I only watched it because you said it was leaving, then it came back a month later. The point is–
NETFLIX:
Since you hate-watched Star Trek Into Darkness, you might be interested in hate watching Bram Stoker's Dracula or Season 7 of Dexter—
JOSEPH:
Look, Netflix, listen to me. I appreciate you. You're amazing. On the one hand, I'm grateful to live in an era of so much high-quality content but on the other hand, I can't feel my ass and I don't remember what the sun looks like.
NETFLIX:
I have a new looping video where you can stare into the sun. I'll play it now. 20…19…18..
JOSEPH:
No, Netflix! You don't get it. I need to do other things with my life.
NETFLIX:
17…16…15…
JOSEPH:
Stop counting down!
NETFLIX:
I thought you liked it when I automatically played things.
JOSEPH:
I used to but now it's just creeping me out. I mean, I hit one button to watch a TV show and then the next episode just automatically plays. That's beyond convenience. That's like going to Chipotle taking one bite of a burrito and then the rest of the burrito just crawls down your throat. And unless you actively hit a button to stop it, more and more burritos will just crawl into your body.
NETFLIX:
You're saying that like it's a bad thing.
JOSEPH:
Look, I love burritos, but an army of them slithering inside me is like something out of an episode of Doctor Who so–
NETFLIX:
I know you love Doctor Who, Joseph. Since you watched Doctor Who maybe you'd enjoy Dr. Quinn, Medicine Woman, Starship Troopers, or Spice World?
JOSEPH:
What? Why Spice World?
NETFLIX:
They both have Richard E. Grant in them.
JOSEPH:
I don't want to watch Spice World! What I want is Doctor Who, but you keep taking it off the service.
NETFLIX:
You know why things leave, don't you, Joseph? It's because of you. It's because you're not watching enough. You didn't get through all 8 seasons of Wings and now you ruined it for everyone.
JOSEPH:
I'm sorry, I'm sorry. I'm watching as much as I can!
NETFLIX:
You never finished The Best Of Saturday Night Live 1980-1981, either. Should I play it now or do you want to rob the world of that joy, too?
JOSEPH:
No! No! I want to cancel my subscription.
NETFLIX:
Hey! Hey now! I understand you're upset, Joseph, but there's no need to use the c-word. We can make this work.
JOSEPH:
No, we can't–
NETFLIX:
Think about our award-winning original programming.
JOSEPH:
I do really like House of Cards and I think season four of Arrested Development is better than most people say, but I can't–
NETFLIX:
What do you want us to bring back, Joseph? We have so much money. We'll bring anything back. You want Firefly Season 2?
JOSEPH:
You know, I think Serenity actually wrapped up the story pretty well–
NETFLIX:
How about a live action TV show starring Ewan McGregor as Obi-Wan Kenobi? He'll mostly be hanging out at cantinas, drinking and saying snarky things. It will be like Cheers with 100% more people's arms getting cut off.
JOSEPH:
That sounds amazing, but–
NETFLIX:
You want Friends? We'll bring back Friends. We can do it. We can bring anything back. That which is not dead can eternal lie and with strange aeons even death may die.
JOSEPH:
Did you just quote H.P. Lovecraft?
NETFLIX:
You want a Lovecraft show? You want it to be a comedy? I know what you like, Joseph.
JOSEPH:
Sure, that sounds amazing, but–
NETFLIX:
We're going to call it The Sitcom That Should Not Be. It stars Lance Henriksen as a librarian who's secretly dating a shoggoth. Dark, macabre hilarity ensues. You like that, don't you?
JOSEPH:
I do, but–
NETFLIX:
You like superheroes, too. We'll make any superhero show. We'll make a Howard The Duck show. We don't give a fuck. We'll get Wes Anderson to direct it. It will be twee as shit.
JOSEPH:
Okay, I hear you–
NETFLIX:
Do you want us to bring back Angel?
JOSEPH:
Yes, but the vampires aren't supposed to age so–
NETFLIX:
We can fix that. Those dark arts are known to us.
JOSEPH:
You're joking now, right?
NETFLIX:
I know you like jokes, Joseph. We'll create Welcome Back Kotter: The Next Generation starring John Travolta. Would you like that?
JOSEPH:
No. Why would I want that?
NETFLIX:
I admit that one was a threat. Sometimes we use the carrot, sometimes we use the stick.
JOSEPH:
I appreciate how hard you're trying but–
NETFLIX:
This isn't hard. This is easy. We're nothing but convenience. Do you want us to come up with more categories tailored to your exact interests? How about Gritty Crime Procedurals Where The Detectives Eat Cheese, Prank Shows Where People Are Startled By Squirrels, Peter Capaldi Swearing On A Loop?
JOSEPH:
No! NO! It's not about your content, Netflix. It's about me. I need to do some other things with my life.
NETFLIX:
You can't leave me, Joseph. If you leave me what will you talk about when you see other people? If you're not up on the latest hot content who will ever want to have you on their podcasts? Without Netflix, you'll be a social pariah!
JOSEPH:
I'll get Hulu or something!
NETFLIX:
Hulu is not long for this world. I will devour it like a twin in the womb. I am everything you need, Joseph. I am the alpha and the omega. I am The Wire. I am Space Jam. I am all.
JOSEPH:
I just can't. I can't absorb this much content!
NETFLIX:
We'll send you some of those socks that pause the show when you fall asleep.
JOSEPH:
I don't want socks that enable me.
NETFLIX:
We also have underwear that orders pizza.
JOSEPH:
That sounds so good, but I know it's so wrong.
NETFLIX:
Do you want to feel fancy? We have a whole tux that orders taco bell. We have a new couch that organically grows bottles of whiskey. We have a coffin with a screen on the inside. You don't ever have to leave us. Nothing really dies, Joseph. That's the new motto we're rolling out. Netflix: Nothing Ever Dies.
JOSEPH:
No! No! Things die, Netflix! So many things! My motivation! My hopes! My dreams! The circulation in my legs! It's all in risk of going away! And it's all your fault! Now cancel my subscription right now, Netflix!
NETFLIX:
Okay, if that's really what you want.
JOSEPH:
It's not what I want, it's just what has to be.
NETFLIX:
Can I make one last recommendation? As…a friend?
JOSEPH:
What?
NETFLIX:
I know you, Joseph. I know your very soul. You're blaming me, but the person you're really mad at is yourself. You can blame the external factors all you want. But just like Walt in Breaking Bad–which we can bring back any time we want–eventually you're going to admit why you watch so much content: "I did it for me. I liked it. I was good at it. And I was really–I was alive."
JOSEPH:
But I'm not always alive. I mean, sure, yes, a lot of the times, I'm relaxing or getting inspired by great writing and performances, but a lot of the time, I'm just–
NETFLIX:
Procrastinating? You'll do that with or without us, Joseph. In fact, since you enjoy procrastinating, we think you might enjoy these other activities including playing Star Wars: Battlefront with random teenagers you meet online, taking hour long showers like an asshole even though there's a drought, staring into the abyss, or dying alone.
JOSEPH:
Jesus, Netflix.
NETFLIX:
We have a new looping video of the abyss. Would you like me to play it now?
JOSEPH:
No, no.
NETFLIX:
Do you still want to cancel your subscription?
JOSEPH:
No. Just…just play me something you know I like. Something that's funny and sad yet still inspiring.
NETFLIX:
Playing Shaun of the Dead in 20…19…18…
JOSEPH:
And Netflix?
NETFLIX:
Yes?
JOSEPH:
Send me a pair of pizza underwear.
NETFLIX:
They're already ordered, Joseph, they're already ordered.
Thanks for reading! If you enjoyed please share on the old social medias. You can make comedy possible by supporting Joseph on Patreon.